UNITE Tour Guide System from beyerdynamic
UNITE delivers improved speech intelligibility, ease of use, a 300m system range that's configurable for a wide range of tour guide applications.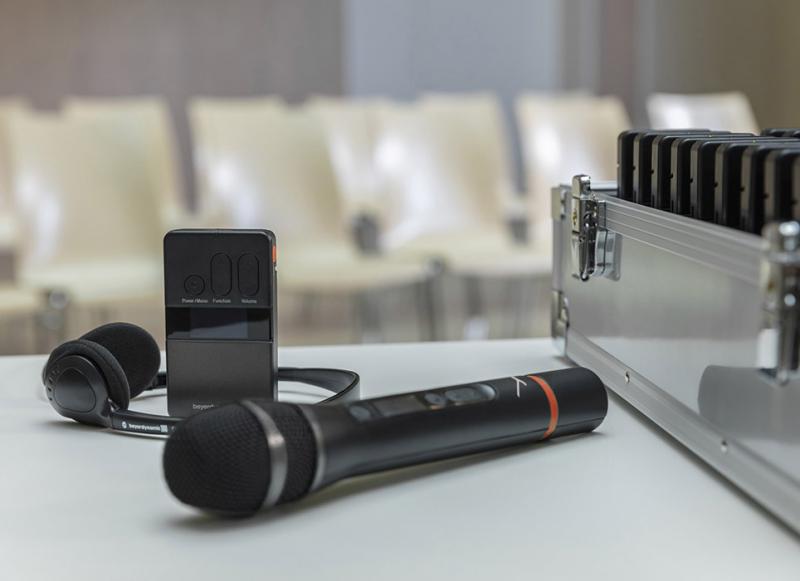 UNITE is the digital wireless tour guide system from beyerdynamic that allows people to communicate and interact with each other - a wide-area solution for keeping staff in-touch while maintaining social distance at work. This two-way tour guide system opens-up whole new possibilities for improved dialogue between people, regardless of when, where and how they wish to communicate. UNITE tour guide connects people with a system range of up to 300 metres - bridging language barriers and assisting with sensory challenges.
The modern, future-proof transmission platform in DECT-standard means the UNITE tour guide system can be used worldwide without certification and licence fees. You need not worry about frequencies as the system automatically controls its robust and encrypted transmission. This allows up to 32 tour groups to be integrated in parallel, and its wide operating range and long operating time offer completely stable transmission conditions.
UNITE tour guide system expands applications beyond traditional walking tours - offering full integration with venue audio-visual systems including digital audio networks across multi-space venues, corporate offices and educational campus.  UNITE provides the ability to use common components (transmitters and receivers) for varying purposes, increasing utilisation and value for money. 
UNITE Tour Guide System Features
Two-way speech for training, Q & A, talkback, discussion
3 simultaneous talkers
Guided tours with one or two speaking guides
Interfaces for external audio sources including Bluetooth devices - e.g. expanding a Zoom conference to the headset group
Configurable talk modes Read more...
32 parallel groups
Encrypted digital transmission
DECT licence-free worldwide
Portable and fixed transmitters up 300m range.
Rechargeable devices operate for up to 15 hours
SD & HD Audio - either tailored for speech clarity or high-quality for multimedia 
UNITE Transmitters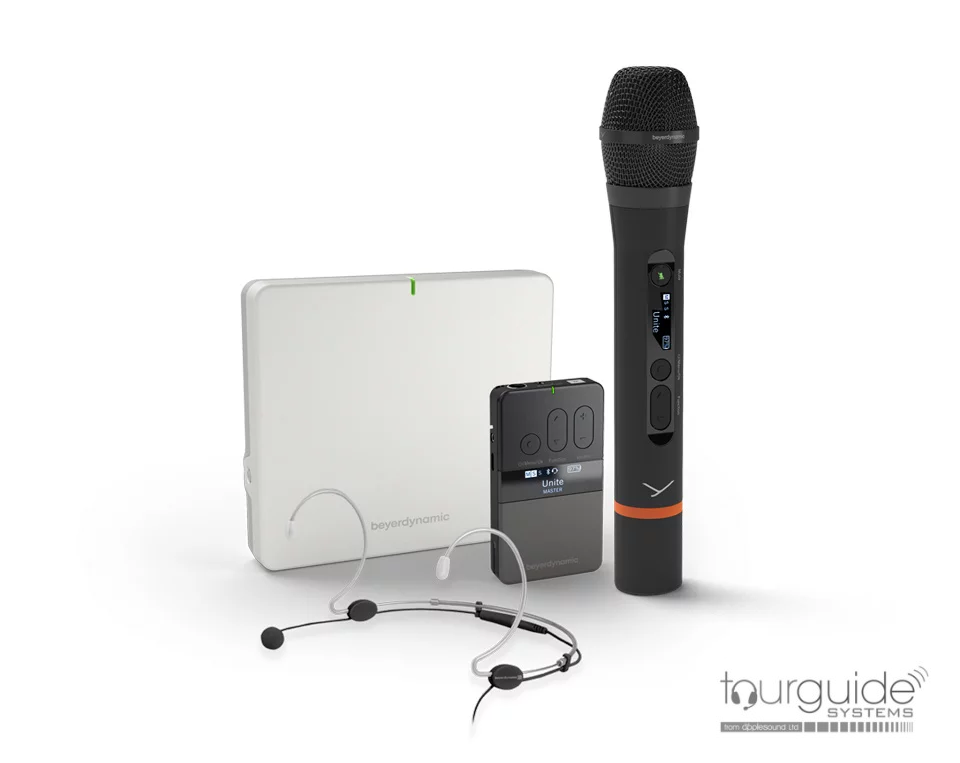 With Unite, you need never worry about frequencies: no registration, no license fees, and frequency management is automatic. Digital, noiseless transmission and intelligent DSP algorithms mean the system may be optimised for speech applications. The transmitter's advanced settings includes functions to balance out voices of varying volume, differing speaker distances and female or male voices, among other things. Disruptive background noise is also eliminated. Set & forget - your guests will always hear the best. 
The UNITE portable range provides a hand-held microphone transmitter to tour guides and presenters or, a pocket transmitter with a wide selection of microphones and two-way headsets. Guides or presenters can playback audio from external sources via a cable or Bluetooth link (multimedia screen, etc).
In fixed installations, each Unite Access Point connects four microphones simultaneously. The synchronisation of up to eight Access Points makes up to 32 channels possible. By reducing transmission power, parallel operation is possible in a near unlimited number of rooms - at a conference venue or classroom learning.
The HD Audio setting provides high quality sound for speech, music transmission for multimedia and sound relay applications too.
UNITE Receivers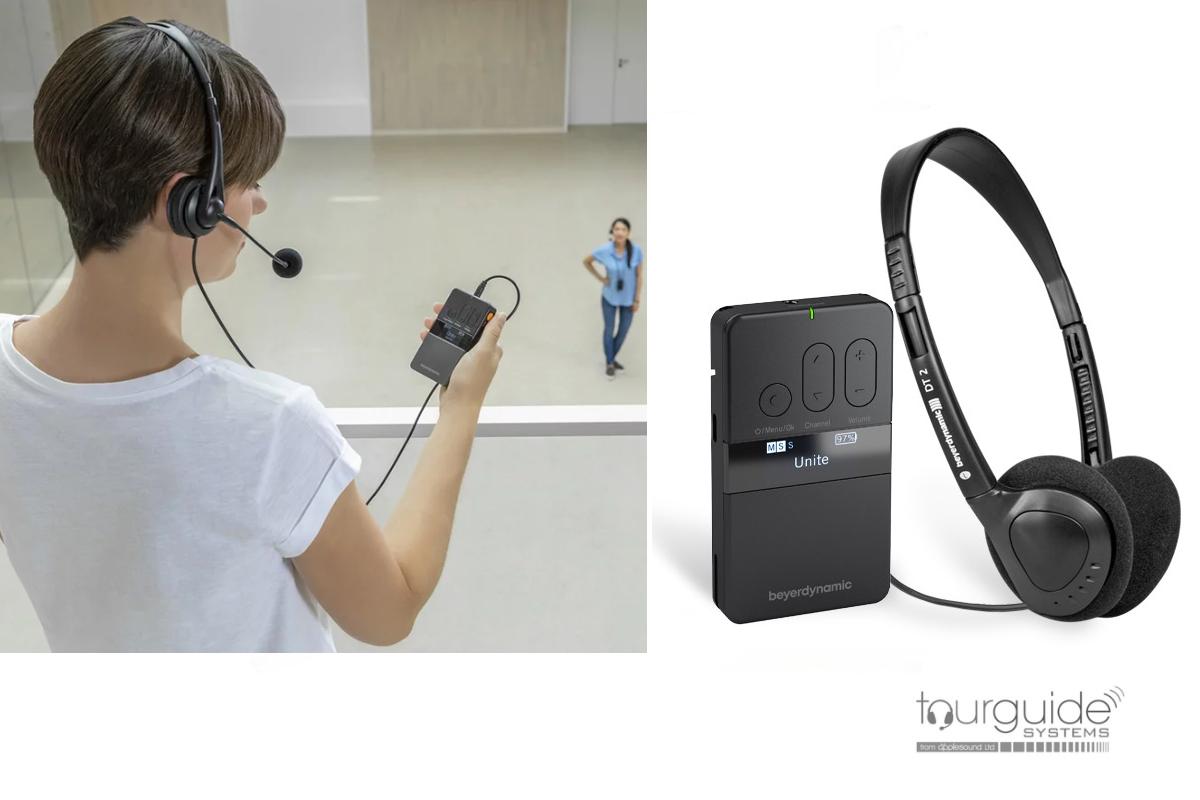 UNITE RP-T receivers may be used with a range of headphones, and allow the participant to talkback to the tour group via its internal microphone (like using a mobile phone). There is a range of optional headsets for talkback applications and interactive discussion.
UNITE RP receivers are perfect for listen-only tours, assisted listening for hearing aid users, audio description and listening to simultaneous translation. Receivers may be programmed with specific settings for each application to make things easy for the listener.
UNITE Tour Guide System Applications
Guided tours - noisy factory tours, walking tours
Language interpreting - up to 32 languages for simultaneous translation
Assistive listening - for hearing aid users
Classroom soundfield - multiple teaching groups in the same space 
Audio description for visually impaired  audiences
Wireless intercom talkback