What is a Tourguide System?
TourGuide Systems bring clear and intelligible communication to large factory tours, open air tours, sports arenas, multi-language interpretations, audio descriptions and other guided tours in many challenging and noisy environments.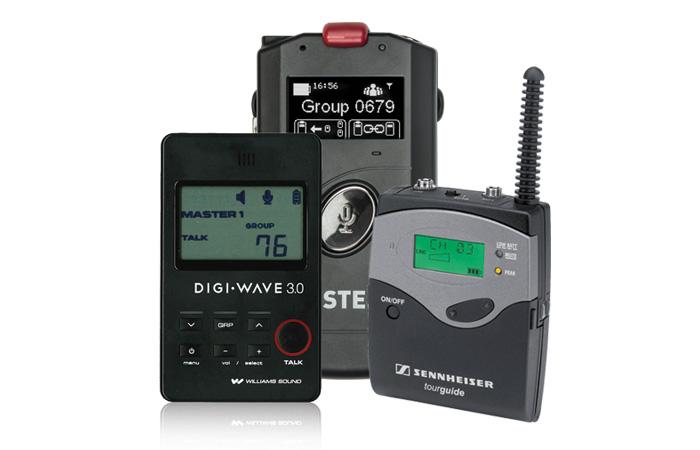 Our range of tourguide systems offer maximum flexibility with minimum fuss. The tourguide system does away with sore throats for tour guides, confusion and frustration for the group tour party.
The group guiding systems that we provide can be easily operated without any previous knowledge or experience of the equipment, easy-to-follow instructions are included, and you can call us or contact us online anytime for support. We have an enviable reputation for delivering first-class customer service. Here at Tourguide-SYSTEMS from Apple Sound Ltd, that's what we do - so you can be assured of the very best advice and service.
Once the receivers are distributed to the group, the Tour Guide / Event Leader simply turns on a microphone transmitter and speaks to the audience. The group tour members then adjust their own volume to a level that is comfortable to them.
The lightweight wireless receivers are comfortable to wear, even for long periods - receivers available with battery-life of up to 24 hours.
Ideal for:
Guided tours of Museums, Public gatherings, sports ground and arenas, historical buildings, art galleries - both indoors and outdoors
Noisy environments – such as factory and large plant tours
Assistive listening or Radio aid system for hearing impaired persons (using a hearing aid with telecoil for induction loop)
Simultaneous translation for multilingual meetings, or sim. tran. system, more...
Silent conference, presentations at exhibitions and for multiple breakout sessions (up to 15 channels in the same space, just select the channel on the receiver) - open-plan and within temporary structures like inflatable domes. (Like a silent disco but without the flashing lights.)
The microphone can be hand held type - convenient to pass to members of the tour group for occasional questions, or a head-worn type which operates through a belt-worn transmitter – leaving the guide with their hands free to point out interesting features. Two-way speech systems are also available for Q&A with your tour group (talkback), or to allow full discussion between all participants (ideal for team training).
The receivers can be either the one-piece Sennheiser 'stethoset' style - worn hanging from the ears, or a belt-pack type - using earpieces or headphones to relay the sound. Belt pack receivers can also be used in conjunction with 'ear defender' headphones for very noisy environments and with a 'neck loop' for hearing aid users (with T-position).