Digi-Wave Tour Guide System Hire
Digi-Wave, the two-way radio tour guide system available to hire. You can now take small groups of VIP's around your site for a fully-interactive experience - Digi Wave pocket transceivers provide high quality audio for your tour group with the added feature of allowing them to ask questions or talk to each other with the touch of button.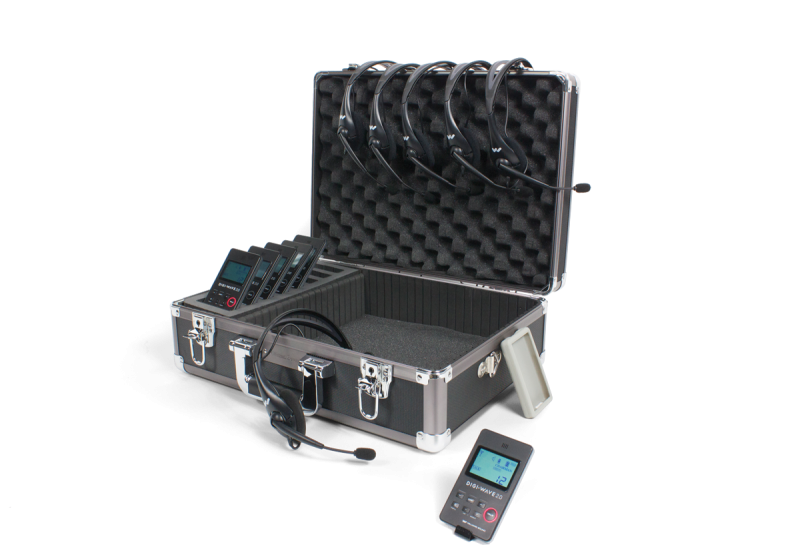 Why hire a Digi-Wave two-way tour guide system?
DigiWave allows two or more tourguides to lead a tour group and/or interact with local guides at stations around the tour route, for example.
Your tour group members wear a lightweight headset which has a single earpiece and boom microphone (like a telephonist) and everyone can have a pocket transceiver (the size of an iPod). If your tour is in a noisy factory, then we have noise-reducing & ear-defender headsets too, helping to protect hearing while allowing everyone to communicate.
Examples:
In a factory, the main tourguide can lead the tour party with visitors listening, then the guide can then talk (two-way) with each production line supervisor – all your visitors will hear a highly informative and dynamic tour.
Foreign visitors can also join a tour and listen to their interpreter - up to 14 interpreter channels available in addition to the tourguide/floor-language.
VIP tours of your facilities can now offer interactive tours even in noisy environments - small groups can use Digi-wave transceivers with headset/boom microphones allowing any two participants to talk.
Applications include use in factories, museums, campus tours, field trips, tourist attractions, theatre production talkback.
2-way, push-to-talk communication allows for listener Q&A.
The main tour guide always controls the conversation
Four groups can operate simultaneously within a 60 metre range
Listeners can use a single ear-hook speaker, earphones, headphones, neck loops or the built-in speaker
DLT300 transceivers that allow up to six simultaneous talkers in a tour group!.
Contact us for a quick quote.