Use ListenTALK to meet your assistive listening needs.
​
Apple Sound Ltd is a Trusted Partner & reseller for Listen Technologies in the UK & Ireland.
Everyone deserves an exceptional listening experience. ListenTALK is the simplest and most reliable tour guide solution to meet your assistive listening needs (hearing loop option). Flexible for a variety of listening environments and encrypted for security, ListenTALK helps you meet global assistive listening compliance standards.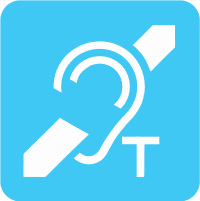 ​
---
Portable Hearing Loop System
ListenTALK is a wireless radio system that makes it easy to include hearing impaired guests to your event. Whether its on a 1-2-1 basis or group tour of engineers discussing manufacturing equipment at a noisy factory, you can always ensure hearing aid users are included in the conversation.  
The accessories LA-438 (adult size) & LA-439 (child size) Neck Loops provide a reliable and effective way for listeners with telecoil-equipped hearing aids and cochlear implants to utilise your ListenTALK assistive listening system. Each neck loop slips comfortably over the wearer's neck and transmits the audio signal wirelessly to their 't-coil' device, leaving their hands free for added convenience. The neck loop can be used for with receivers for one way, listen only tours or, where the participants can talk back, when used with the ListenTALK transceiver (transmitter & receiver).
View ListenTALK Portable Packages to Buy.
---
Venue Hearing Loop System
You can also use ListenTALK to provide assistive listening for your theatre audience members who have hearing aids. This system provides a convenient way to deploy a hearing loop system in existing venue audience spaces - as there is no installation, unlike a conventional room loop that uses a wire [loop] installed around the audience area. ListenTALK uses DECT - encrypted, digital radio frequency transmission and operates independently of other RF (radio frequency) systems. It delivers reliable, interference-free audio. 
Using a ListenTALK LK-1 as the transmitter, just send an audio feed to this device from your sound system mixer, which transmits directly within the auditorium to pocket sized personal receivers worn by audience members. The personal neck loop connects to the LKR-12 receiver.