Use  for Training and Induction during factory floor training, induction field sales, production line meetings or sports training.
A communication system is perfect for training and staff induction, in the workplace, education or on the sports field.
Solve the challenges of background noise and distance without straining your voice and keeping everyone engaged as well as being able to ask questions and provide feedback at the push of a button.
You can Book a Free Audio System Demo Kit or request a quote for an Audio Tourguide System.
---
Premium System 


This premium communication system from ListenTALK combats machinery noise on the factory floor and allows team meetings to go ahead alongside manufacturing processes or in the warehouse. While outdoors on site visits, using ListenTALK allows any size group to tour a construction site, for example, keeping everyone involved in the discussion. Up to three people can talk at one time, while the system's intelligent management of active talkers keeps the conversation flowing naturally and minimises background noise. 
Book a ListenTALK System Demo Kit
Hands free 
Speak at the push of a button into the device or optional headsets
Up to 3 simultaneous talkers 
Wireless
Devices operate for up to 12 hours
Headsets options for all environments (including noisy factories)
One way or Talkback
Premium Quality

​Full instructions and support provided

Typical range of up to 150-300 metres
Supports up to 30 groups
Groups can easily be configured using the docking station tray and the push of a button, or on the go by tapping the leader's transceiver. 
Choose the best headset option for your trainers and trainees. In noisier workplaces, there is a range of headsets for single ear or both ears, plus ear defenders where certified hearing protectors are mandatory.
Best of all - you can choose which mode is best for your session by either allowing trainees to ask questions with two way communication or limit the group to one way communication for a listen only instruction.
Change between communication options with a single button press, it's as simple as that. 

​
---
​
Budget System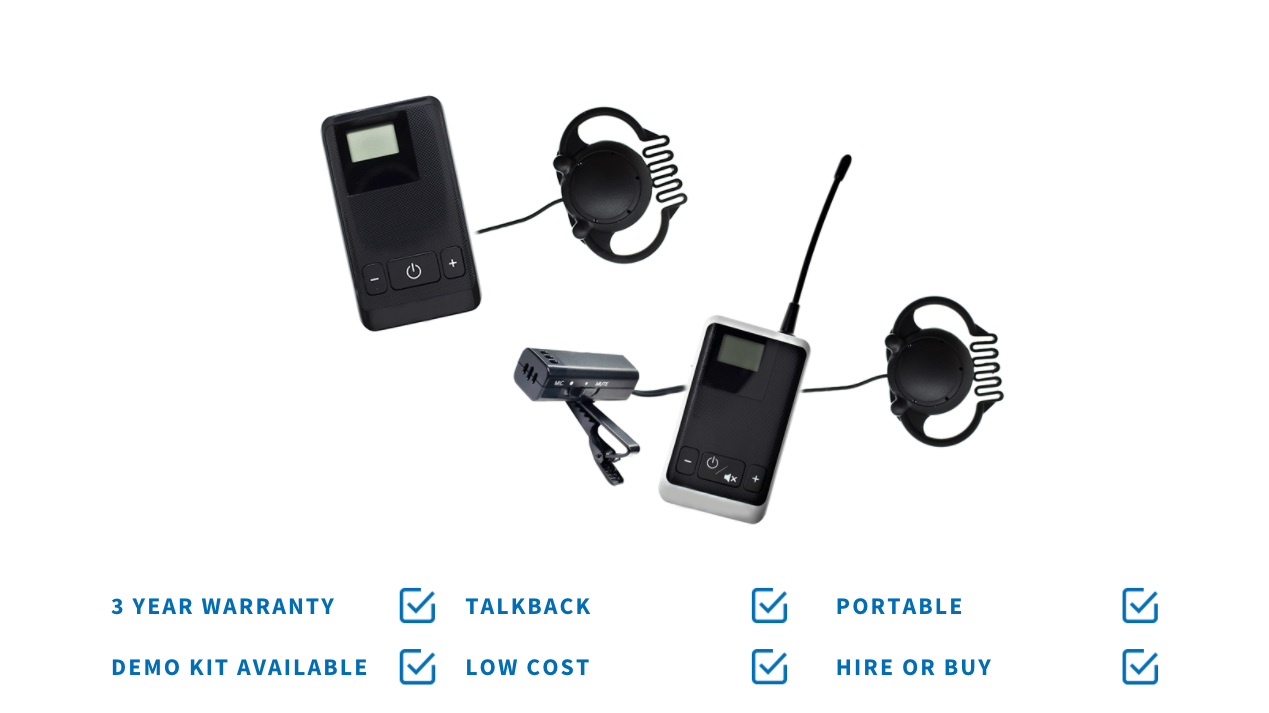 The Low cost option communication system that is simple to use and can be paired with unlimited receivers to meet your group requirements. We offer set packages of 11 or 34 receivers but custom packages are available.
Hands free 
Speak at the push of a button into the device
Limited to 1 guide per group 
Wireless
Devices operate for up to 12 hours
Receivers limited to earpiece only
Listen Only or Talkback options
Low Cost

​Full instructions and support provided

Up to 100 metres range outdoors
Supports up to 4 groups